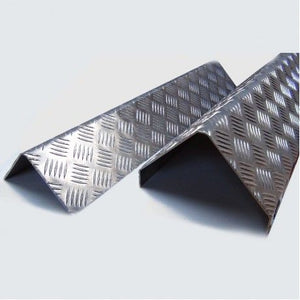 WHAT IS ALUMINIUM?
Aluminium is a silver-coloured, low density metal. It finds use in a huge variety of commercial applications. The Unalloyed type is ductile, exhibits moderate strength, and is very resistant to corrosion under most circumstances.  Aluminium is an excellent conductor of heat and electricity.
WHAT IS ALUMINIUM CORNER TRIM?
Aluminium corner trim are designed to seal internal and external corners, coming with a 5 bar raised pattern, our checker or chequer plate sheets are ideal for increasing grip and reducing slipping. Our aluminium corner trims are made from 2m aluminium checker plate. Our checker plate is 3.5mm overall in thickness (including pattern).
METAL CHECKER PLATE
Metal checker plate is a type of tread plate that is distinctive by its raised bars that provide users with a non-slip surface. This makes it very versatile and suitable for a variety of uses, industries and locations. Aluminium chequer plate is light weight, rigid and possesses high strength. It is resistant to staining and easy to clean, as well as having good corrosion resistance. This makes it a low maintenance and highly reliable option for many metalwork projects.
CORNER TRIM AT LONDON METAL STORE
At London Metal Store, our metal supplies are priced competitively, offering fantastic value for money for the very highest standard of metal products. Whatever you need from your metal products, the London Metal Store is happy to provide for you.
All of our items can either be ordered via Click & Collect from our metal store, or for delivery. If you need help navigating our metal store, or can't find what you're looking for, don't hesitate to call our team on 0203 002 63 53 or drop us an email at sales@londonmetalstore.co.uk.