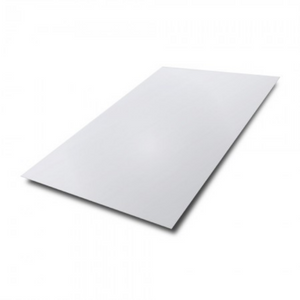 Aluminium plate is a silver-colored, low density metal. It finds use in a huge variety of commercial applications. The Unalloyed type is ductile, exhibits moderate strength, and is very resistant to corrosion under most circumstances. Most of our aluminium sheets are poly coated one side with the exception of our 0.7mm, 4mm, 5mm and 6mm aluminium sheets which are uncoated on both sides. 
Thin Aluminium Sheet Metal 0.7mm
Our 0.7mm  thin aluminium sheet is perfect for model making, and we offer aluminium sheet cut to size up to 6mm thick all from with in our metal stores. These aluminium sheets provide for a great range of applications such as sign making, car body repair and jewellery making. 
Thin aluminium sheet
Aluminium changed the metalwork game when it was introduced, thanks to its superior durability, reliability, flexibility and design potential. So it's no surprise that thin aluminium sheet is one of the most sought after metal products for a wide variety of projects. Luckily, you'll find high quality sheet aluminium right here at London Metal Store, including metal cut to size to meet your needs.
Aluminium sheets come in a variety of sizes, from small to large, and you can also invest in each sheet cut to size to meet your dimensions. All of our items can either be ordered via Click & Collect from our metal store, or for delivery. Please use our customer option if you require metal sheets cut to size.
If you need help navigating our metal store, or can't find what you're looking for, don't hesitate to call our team on 0203 002 63 53 or drop us an email at sales@londonmetalstore.co.uk.
Looking for an aluminium sheet metal store near me?
Sheet aluminium is an example of sheet metal formed through an industrial process that produces thin, flat pieces of aluminium that can be used in a variety of roles and projects. These sheets are fundamental to metal working, especially because the metal cut to size option allows sheets to be tailored to the specific dimensions of every role and project.
Here at London Metal store, we offer a wide range of metal sheets that can meet your requirements, whatever they may be, including thin aluminium sheet options. You can also get in touch with us if you have specific requirements you'd like us to meet.
Contact us today to find out how we can help you with your sheet metal project.
Aluminium sheet cut to size
If you're looking for aluminium sheet cut to size, you're in the right place. While sheet metal can come in a range of sizes, we are also able to tailor the size of your sheet metal to meet the dimensions necessary for your project. We understand that no two metalwork projects are the same, so we're always happy to sell metal cut to size. See above for our sizes and prices.
We can also provide additional folding and powder coating services too. If you require help, please get in touch with our sales team via phone or email.
Find thin aluminium sheet at London Metal Store
With a quarter of a century's experience under our belt, we have the knowledge and expertise to support you throughout your entire metalwork project, from enquiry to delivery. And if you're looking for thin aluminium sheet near me, you're in the right place.
Discover high quality sheet aluminium right here at London Metal Store. If you require sheet cut to size services, feel free to get in touch. Call us on 0203 002 63 53 or drop us an email at sales@londonmetalstore.co.uk.