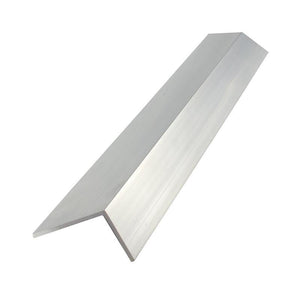 WHAT IS ALUMINIUM?
Aluminium is a silver-coloured, low density metal. It finds use in a huge variety of commercial applications. The Unalloyed type is ductile, exhibits moderate strength, and is very resistant to corrosion under most circumstances.  Aluminium is an excellent conductor of heat and electricity.
WHAT IS ANGLE ALUMINIUM?
Angle aluminium bars are used in the manufacture and repairs of trailers as well as in farming and fencing. Our equal angle aluminium bars are available in a range of sizes and thicknesses, we can also offer unequal angles. If you can't see what you require please call our sales team. The legs of aluminium angles form a 90 degree angle.
ALUMINIUM ANGLE SIZES
At London Metal Store, we make it our mission to meet the specific metalwork demands of our customers with the highest quality metals all in one place, including a range of aluminium angle sizes. We provide metals cut to size to ensure that your exact needs are met, as you can pick the specific dimensions of brass you require for your project.
Aluminium angle is a hugely popular metal option, and our aluminium sheet cut to size services make it more useful and accessible than ever.
LOOKING FOR ALUMINIUM EQUAL ANGLE?
Aluminium angles are available both as a aluminium equal angle and as an unequal angle. This refers to the lengths of the legs or sides of the angle. If both of the legs are the same length, it is a aluminium equal angle, and if both legs are different lengths, it is a aluminium unequal angle. Both of these products are used across a range of projects.
ALUMINIUM ANGLES FROM LONDON METAL STORE
Looking for the aluminium angles for sale? UK shoppers can't do better than London Metal Store. We pride ourselves on offering the highest quality aluminium angle iron for the most competitive price, so you know you're getting the most out of your budget.
So if you're looking for aluminium equal angle, take a look at our aluminium angles today, including a range of aluminium angle sizes. And don't hesitate to contact our team if you have any questions. Call us on 0203 002 63 53 or drop us an email at sales@londonmetalstore.co.uk.