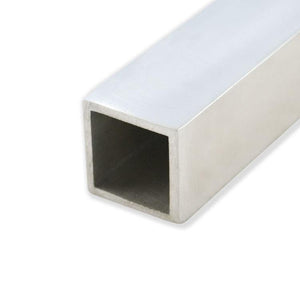 WHAT IS ALUMINIUM?
Aluminium is a silver-coloured, low density metal. It finds use in a huge variety of commercial applications. The Unalloyed type is ductile, exhibits moderate strength, and is very resistant to corrosion under most circumstances.  Aluminium is an excellent conductor of heat and electricity.
WHAT IS BOX ALUMINIUM
Square hollow sections or box sections as well as rectangular hollow sections or rectangular box sections are  commonly used in many commercial and industrial applications. They are produced to give good strength and weldability. We have a large range of aluminium box sections available from stock in a choice of lengths, widths and thicknesses, but if you don't see the specification you require please call our sales team.
ORDER ALUMINIUM BOX SECTION FROM LONDON METAL STORE
With well over 25 years experience under our belt, we have the knowledge and expertise to support you throughout your entire metalwork project, from enquiry to delivery. And if you're looking for square aluminium section, you're in the right place! Discover the best quality aluminium square tube here at London Metal Store. If you require a length not shown on our website, then this is not a problem we can accommodate bespoke lengths so please feel free to get in touch. Call us on 0203 002 63 53 or drop us an email at sales@londonmetalstore.co.uk.