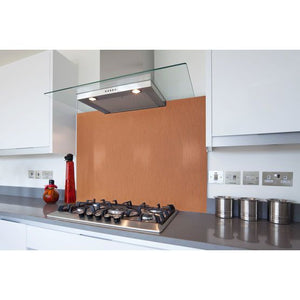 WHAT IS COPPER METAL?
In general, copper plate alloys exhibit good to excellent corrosion resistance and high thermal conductivity and very high electrical conductivity. It has great aesthetic appeal with a lovely reddish tinge. Use our custom option for copper sheet cut to size.
COPPER SPLASHBACK FOR SALE
Our copper sheets are available in a 0.9mm thickness. We also provide copper splashbacks for sale in different size options from a full sheet of copper or smaller copper plates. Copper is often used for electrical equipment such as wiring and motors due to its's ability to conduct heat and electricity very well. 

COPPER SPLASHBACKS FOR KITCHENS
Most people utilise splashbacks in kitchens is because it is highly useful for stopping food stains from getting on the walls on the back of cooking. It's sleek and modern look is perfect for kitchens as it makes them much more easier to clean and hygienic compared to tiles. Splashbacks are cheaper than tiles and have proved to be durable as well creating a perfect alternative. Due to it's size, splashbacks have proven to be a lot more efficient to install with numerous people installing them themselves to save money. London Metal Store produce splashbacks in copper and various other materials.
COPPER SPLASHBACKS CUT TO SIZE
At London Metal Store, we make it our mission to meet the metalwork demands of our customers with the highest quality metals all in one place, including copper splashback metal. We provide copper sheet cut to size to ensure that your needs are met, as you can pick the exact dimensions of copper you require for your project. 
Copper plate is a hugely popular metal option, and our copper sheet cut to size services make it more accessible and usable than ever.

LOOKING FOR A COPPER SPLASHBACK NEAR ME?
Copper splashbacks are in high demand from interior designers, hobbyists, to fit out and renovation works. At London metal store we provide the option for customers to Click and collect from store when in a hurry or alternatively we can arrange delivery for those time sensitive projects. Our high quality copper sheeting can be provide to your exact dimensions to suit the requirements of your project.
So if you're looking to buy copper sheet metal, take a look at our brass plate for sale today, including our copper sheet cut to size. And don't hesitate to contact our team if you have any questions. Call us on 0203 002 63 53 or drop us an email at sales@londonmetalstore.co.uk.