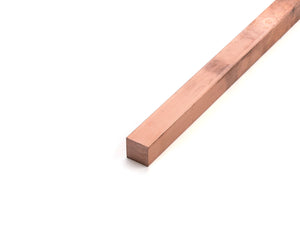 What is Copper Metal?
In general, copper alloys exhibit good to excellent corrosion resistance and high thermal conductivity and very high electrical conductivity. It has great aesthetic appeal with a lovely reddish tinge.
Copper Square Bar For Sale
Copper square bars are commonly used in many commercial and industrial applications including joinery, furniture and staircases. They are also typically used for high-end electronics, automotive, domestic appliances, general engineering and cold formed components. They are produced to give good strength and corrosion resistance. We have a large range of Copper square bars available from stock in a choice of diameter and length. 

Looking for Copper Square Bar Near Me?
Here at London metal store we have a vast range of copper square bars in stock for quick despatch. Call us today for specific finishes or bars cut to your exact dimensions. Our solid copper square bar can be supplied from as small as 6mm square all the way up to 25.4mm square brass bar. We supply lengths of 1m and 3m square bar section, but if you don't see the specification you require please call our sales team. All of our copper bars are supplied in grade CZ121, ideal for making machined or turned components including model making.
When shopping for the right copper supplies, you want to make sure you're selecting options which meet your demands. Here at the London Metal Store, our customers can enjoy peace of mind that all copper products they order live up to the very highest standard for quality and accuracy. If you're looking to buy square bar copper, you're in the right place. Take a look at our square bar copper options today and find the best steel price. At London metal store we provide the option for customers to Click and collect from store when in a hurry or alternatively we can arrange delivery for those time sensitive projects. 
Don't hesitate to contact our team if you have any questions or queries. Call us on 0203 002 63 53 or drop us an email at sales@londonmetalstore.co.uk.