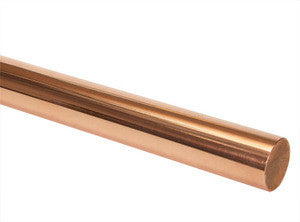 What is Copper Metal?
In general, copper plate alloys exhibit good to excellent corrosion resistance and high thermal conductivity and very high electrical conductivity. It has great aesthetic appeal with a lovely reddish tinge.
Copper rod/round bar
Round copper bars are used in a wide variety of applications including the manufacture and repair of gates, railings, fencing and for decorative purposes. We have a large range of copper rods available from stock, but if you don't see the specification you require please call our sales team. We supply conveniently sizes lengths in grade CZ121 that offer solid corrosion resistance and the ability to machine down or make custom components from. Our copper rods can supplied from as small as 6.3mm in diameter to larger diameters giving our customers ample choice and options for their projects. We are also able to provide copper round bar your specific lengths required, please contact our sales team who will be happy to assist. 

Copper rod specification 
Our copper rods are supplied in grade CZ121 - perfect for turned parts and machining.
We typically supply our copper round bars in a mill finish

Our copper bars are supplied in convenient lengths of 1m and 3m. We can supply the exact length you require as well.
We supply solid copper round bar from 6.3mm in diameter onwards, great for model making to machining parts.
Our copper round bars have great electrical conductivity and corrosion resistance attributes  
Buy copper rods at London metal store 
At London metal store we provide the option for customers to Click and collect from store when in a hurry or alternatively we can arrange delivery for those time sensitive projects. With over 25 years experience in the metalwork industry we have a wealth of experience in assisting our customer choose the right materials for their needs. Not only can we assist the selection of copper bars, we can if required help with the fabrication and manufacture of copper components. If you need help navigating our metal store, or can't find what you're looking for, don't hesitate to call our team on 0203 002 63 53 or drop us an email at sales@londonmetalstore.co.uk.