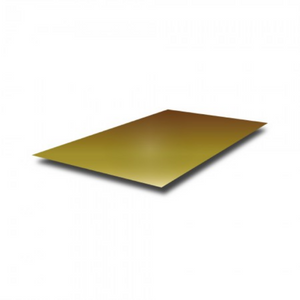 Brass sheet
Brass sheet is one of the most commonly used alloys, being applicable to a wide variety of metalwork projects.
Our metal collection includes sheets in a range of materials, such as brass plate. You'll find small sizes and large sizes in our collection, as well as brass sheet cut to size. All of our items can either be ordered via Click & Collect from our metal store, or for delivery. Please use our customer option if you require metal sheets cut to size.
If you need help navigating our metal store, or can't find what you're looking for, don't hesitate to call our team on 0203 002 63 53 or drop us an email at sales@londonmetalstore.co.uk.
What is brass sheet metal?
Brass sheet is a popular alloy of both copper and zinc, possessing low friction and acoustic properties. Among other things, this makes brass sheet metal particularly popular when it comes to making musical instruments.
Because of its resemblance to gold, brushed brass sheet metal is also commonly used for decorative purposes. It is great for jewellery making, decorative applications, model making and brass worktops. In recent years, warm tones like brass, bronze and rose gold have become increasingly popular in home design.
1.5mm brass sheet near me 
Another benefit of brass sheet metal is that it is germicidal, which means that it can kill microorganisms on contact. We have a range of sizes and thicknesses available in our brass sheet selection, including 1.5mm brass sheet which is popular for a range of applications. When it comes to brass plate, 1.5mm offers plenty of strength while also being versatile and easy to apply to different uses.
We also offer a custom service which you can use to order brass sheet cut to size, meeting your requirements exactly. Contact our sales team for other options such as satin finish brass or mirror finish brass.
Looking to buy brushed brass sheet?
Another popular option when it comes to brass plate for sale is brushed brass. Sheet metal in brushed brass has been treated to provide a matt look when compared to traditional polished brass finishes. This makes brushed brass sheet durable and low maintenance, as it attracts fewer fingerprints and smudges. It is therefore easy to maintain a modern, elegant look with brushed brass sheet.
Brushed brass sheet comes with a protective film that, once removed, allows the metal to quickly acquire a natural patina. This decorative option is very popular with our customers.
Brass sheet cut to size
At London Metal Store, we make it our mission to meet the metalwork demands of our customers with the highest quality metals all in one place, including brass sheet metal. We provide brass sheet cut to size to ensure that your needs are met, as you can pick the exact dimensions of brass you require for your project. 
Brass plate is a hugely popular metal option, and our brass sheet cut to size services make it more accessible and usable than ever.
Brass plate for sale from London Metal Store
Looking for the best brass plate for sale? UK shoppers can't do better than London Metal Store. We pride ourselves on offering the highest quality brushed brass sheet for the most competitive price, so you know you're getting the most out of your budget.
So if you're looking to buy brass sheet metal, take a look at our brass plate for sale today, including our brass sheet cut to size. And don't hesitate to contact our team if you have any questions. Call us on 0203 002 63 53 or drop us an email at sales@londonmetalstore.co.uk.