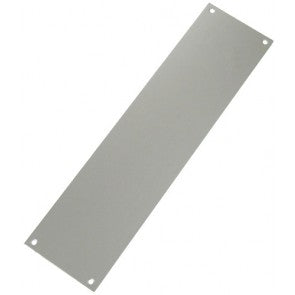 What is Aluminium?
Aluminium is a silver-coloured, low density metal. It finds use in a huge variety of commercial applications. The Unalloyed type is ductile, exhibits moderate strength, and is very resistant to corrosion under most circumstances. Aluminium is one of the most popular materials to use partly due to the number of finishes that can be applied to it. Anodising aluminium allows for the aluminium to have greater corrosion resistance as well as being able to dye the aluminium to a range of colours providing a classy aesthetically pleasing end product. 
What is a Finger Plate?
Finger plates are a rectangular piece that is fixed to a door with the purpose of protecting the surface from finger prints/ marks.  They tend to be fitted in public areas where a high volume of people enter and exit but they can be fitted for homes as well. Finger plates are useful for free swinging doors. They have also proven very easy to clean due to their flat and smooth properties.  
Grades of Aluminium 
Aluminium is available in a number of various grades, and by far the most common amongst these grades are 1000 series, 5000 series and 6000 series. We stock all three grades and our sheet metal is typically sold in 1000 series and 5000 series. The 6000 series consists of magnesium and silicon making it the preferred grade for producing extrusions, bar and machining operations.  The 1000 series has a very high content of pure aluminium with in its composition making it extremely corrosion resistant but also structurally the weakest strength amongst the various grades of aluminium. It is the most common grade of aluminium sheet sold in the market. The 5000 series of aluminium is the most common grade sold here at London Metal store with it typically being known as the marine grade of aluminium. As expected, it has great corrosion resistance and since it is of medium strength it is a great option for most applications.
Aluminium Finger Plate at London Metal Store
At London Metal Store, our metal supplies are priced competitively, offering fantastic value for money for the very highest standard of metal products. Whatever you need from your metal products, the London Metal Store is happy to provide for you.
All of our items can either be ordered via Click & Collect from our metal store, or for delivery. If you need help navigating our metal store, or can't find what you're looking for, don't hesitate to call our team on 0203 002 63 53 or drop us an email at sales@londonmetalstore.co.uk.