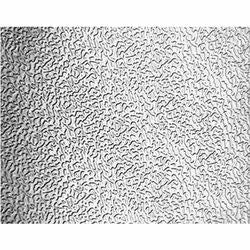 WHAT IS ALUMINIUM?
Aluminium is a silver-coloured, low density metal. It finds use in a huge variety of commercial applications. The Unalloyed type is ductile, exhibits moderate strength, and is very resistant to corrosion under most circumstances.  Aluminium is an excellent conductor of heat and electricity.
WHAT IS ALUMINIUM STUCCO SHEET?
Aluminium Stucco Sheet is a lightweight and decorative sheet that can be easily formed into different shapes. It is used in construction, packaging, curtain walls, elevators and other various uses. We stock a range of sizes from 500mm to 250mm with a thickness of 0.9mm or 1.2mm.
Aluminium changed the metalwork game when it was introduced, thanks to its superior durability, reliability, flexibility and design potential. So it's no surprise that thin aluminium sheet is one of the most sought after metal products for a wide variety of projects. Luckily, you'll find high quality sheet aluminium right here at London Metal Store, including metal cut to size to meet your needs.
STUCCO SHEET AT LONDON METAL STORE
Explore our selection of aluminium stucco sheet options today at the London Metal Store and get in touch if you have any questions. If you a require a different size and thickness not shown on our website, please call our sales team on 0203 002 63 53 as we are also able to provide aluminium chequer plate cut to size.
At London Metal Store, our metal supplies are priced competitively, offering fantastic value for money for the very highest standard of metal products. This includes our stucco plate sheets. Even better, we can cut your metal checker plate to size so it meets your specific requirements exactly. Whatever you need from your metal products, the London Metal Store is happy to provide for you.