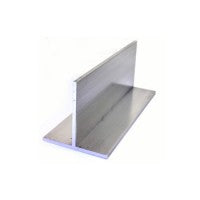 WHAT IS ALUMINIUM?
Aluminium is a silver-coloured, low density metal. It finds use in a huge variety of commercial applications. The Unalloyed type is ductile, exhibits moderate strength, and is very resistant to corrosion under most circumstances.  Aluminium is an excellent conductor of heat and electricity.
WHAT ARE ALUMINIUM T SECTIONS?
Aluminium T sections are commonly used to manufacture windows, stair rails, furniture and a range of other fabrications. They are produced to give good strength and can be welded. We have a large range of Aluminium T sections from stock in a choice of various sizes. Our Aluminium T sections range from a size of 19mm to 50.8mm with a length ranging from 1m to 4.5m.
Aluminium is favoured for it's strength, durability and lightweight. It is a malleable material that carries good corrosion resistance.
ALUMINIUM T BARS AT LONDON METAL STORE
When shopping for the right metal supplies, you want to make sure you're selecting options which meet your demands. Here at the London Metal Store, our customers can enjoy peace of mind that all metal products they order live up to the very highest standard of quality, including aluminium chequer plate panel options.
All of our items can either be ordered via Click & Collect from our metal store, or for delivery. Please use our customer option if you require metal sheets cut to size.
If you need help navigating our metal store, or can't find what you're looking for, don't hesitate to call our team on 0203 002 63 53 or drop us an email at sales@londonmetalstore.co.uk.