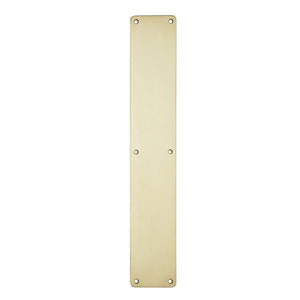 What is Brass?
Brass is an alloy of both copper and zinc. It has low friction properties and acoustic properties, which make it one of the most popular metals to use when making musical instruments. It is commonly used as a decorative metal because of its resemblance to gold and is used extensively in furniture, interior fit outs, and point of sale display. It is great for jewellery making, decorative applications, model making and brass worktops. In recent years, warm tones like brass, bronze and rose gold have become increasingly popular in home design. It is also germicidal which means it can kill microorganisms on contact.
What is a Finger Plate?
Finger plates are a rectangular piece that is fixed to a door with the purpose of protecting the surface from finger prints/ marks.  They tend to be fitted in public areas where a high volume of people enter and exit but they can be fitted for homes as well. Finger plates are useful for free swinging doors. They have also proven very easy to clean due to their flat and smooth properties.  
Brass Cut to Size

At London Metal Store, we make it our mission to meet the metalwork demands of our customers with the highest quality metals all in one place, including your brass supplies. We provide brass cut to size to ensure that your needs are met, as you can pick the exact dimensions of brass you require for your project.
0203 002 63 53 or drop us an email at sales@londonmetalstore.co.uk.
Brass Finger Plate from London Metal Store

Looking for the best brass finger plate for sale? UK shoppers can't do better than London Metal Store. We pride ourselves on offering the highest quality bright polished brass finger plate for the most competitive price, so you know you're getting the most out of your budget.
So if you're looking to buy brass sheet metal, take a look at our brass plate for sale today, including our brass sheet cut to size. And don't hesitate to contact our team if you have any questions. Call us on 0203 002 63 53 or drop us an email at sales@londonmetalstore.co.uk.