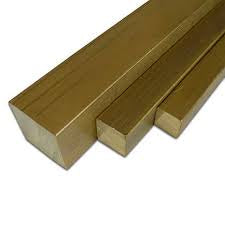 WHAT IS BRASS METAL?
Brass is a popular alloy of both copper and zinc, possessing low friction and acoustic properties. Among other things, this makes brass metal particularly popular when it comes to making musical instruments.
Because of its resemblance to gold, brushed brass sheet metal is also commonly used for decorative purposes. It is great for jewellery making, decorative applications, model making and brass worktops. In recent years, warm tones like brass, bronze and rose gold have become increasingly popular in home design.
WHAT IS BRASS SQUARE BAR COMMONLY USED FOR?

Brass square bars are commonly used in many commercial and industrial applications including joinery, furniture and staircases. Some additional uses of brass square bar include builders hardware and plumbing fittings. They are produced to give good strength and corrosion resistance. We have a large range of brass square bars available from stock in a choice of lengths, widths and thicknesses, but if you don't see the specification you require please call our sales team.
BRASS SQUARE BAR NEAR ME

Here at London metal store we have a vast range of brass bars in stock for quick despatch or for Click and collect. Call us today for specific finishes or bars cut to your exact dimensions. Our solid brass square bar can be supplied from as small as 3.2mm square all the way up to 2'' square brass bar. We supply lengths of 3m square bar section but are able to supply to any specific length. All of our brass bars are supplied in grade CZ121, ideal for making machined or turned components including model making.
BUY BRASS RODS AT LONDON METAL STORE 
With over 25 years experience in the metalwork industry we have a wealth of experience in assisting our customer choose the right materials for their needs. Not only can we assist the selection of brass bars, we can if required help with the fabrication and manufacture of brass components. If you need help navigating our metal store, or can't find what you're looking for, don't hesitate to call our team on 0203 002 63 53 or drop us an email at sales@londonmetalstore.co.uk.