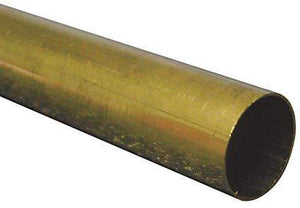 WHAT IS BRASS METAL?
Brass is a popular alloy of both copper and zinc, possessing low friction and acoustic properties. Among other things, this makes brass metal particularly popular when it comes to making musical instruments.
Because of its resemblance to gold, brushed brass sheet metal is also commonly used for decorative purposes. It is great for jewellery making, decorative applications, model making and brass worktops. In recent years, warm tones like brass, bronze and rose gold have become increasingly popular in home design.
What is brass tube?
Brass tube is a composition of copper and zinc with a low melting point that can worked with greater ease than other metals. It also serves very well for electrical and thermal conductivity. The sizes of the brass tube shown represent the outside diameter and the thickness is the width of the wall thickness of the tube.  All of our brass tube is supplied in  a mill finish although we can supply in a satin/brushed finish or a bright polished finish.
Large Diameter Brass Tubing Sizes
Brass tubes are commonly used in many commercial and furniture applications. They are produced to give good strength and aesthetic appeal. We have a large range of brass tubes available from stock in a choice of lengths, widths and thicknesses, but if you don't see the specification you require please call our sales team.
What is brass tubing used for?
Brass tubing is extensively in high end environments such as hotels, restaurants, houses etc. Due to its appearance ( similar to a gold colour) it is highly favoured for all forms of interior design. Brass tube is used in beautiful stair case designs and hand rails and also musical instruments. Brass tubes can be served as a cooling mechanism. At London Metal Store, we an help you choose the right brass tube for your needs.
Buy brass tube from London Metal Store
Our brass tube is supplied in convenient stock sizes but can be accurately cut to your exact requirement.  We are also able to supply other sizes not shown on our website. Don't hesitate to contact our team if you have any questions or queries. Call us on 0203 002 63 53 or drop us an email at sales@londonmetalstore.co.uk.