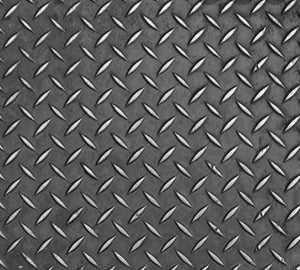 WHAT IS MILD STEEL
Mild steel is a type of carbon steel with a low amount of carbon – it is actually also known as "low carbon steel." Mild steel plate also has a high amount of iron and ferrite, making it magnetic.
WHAT ARE DURBAR SHEET CHECKERPLATES
Durbar's raised patterned provides for an effective hard wearing slip resistant surface. They are typically used for walkways, stair treads, stair landing and platforms. All of our durbar sheet is available in a 3mm thickness with a length of either 1000mm or 2000mm. For bespoke sizes and folding requirements please call our sales team.
DURBAR SHEET CHECKERPLATES AT LONDON METAL STORE
When you order steel from London Metal Store, it will be delivered in its natural state. This resembles a silver grey colour. Once it has been exposed to wet and dry natural conditions, it will change over time and take on a rust-like appearance. However, the sheet can be protected from oxidising with a primer or protective finish. 
All of our items can either be ordered via Click & Collect from our metal store, or for delivery. Please use our customer option if you require metal sheets cut to size. If you need help navigating our metal store, or can't find what you're looking for, don't hesitate to call our team on 0203 002 63 53 or drop us an email at sales@londonmetalstore.co.uk.