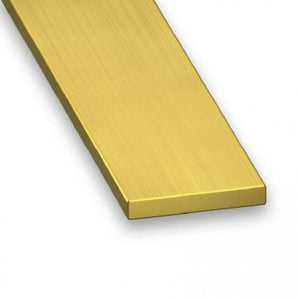 WHAT IS BRASS METAL?
Brass is a popular alloy of both copper and zinc, possessing low friction and acoustic properties. Among other things, this makes brass metal particularly popular when it comes to making musical instruments.
Because of its resemblance to gold, brushed brass sheet metal is also commonly used for decorative purposes. It is great for jewellery making, decorative applications, model making and brass worktops. In recent years, warm tones like brass, bronze and rose gold have become increasingly popular in home design.
Brass flat bar supplies 
Brass flat bars are used in a variety of applications including the manufacture of furniture and decorative purposes as well as high end interior fit outs. They are commonly used as brass inlays for joinery applications such as staircases. All of our range is supplied in a lovely mill finish however we have the ability to provide a satin and mirror finish to all sizes and lengths with in this range. 

What is a brass flat bar?
A brass flat bar is amongst the most popular and necessary metal products to be used in a wide variety of projects. Also referred to as a rectangular bar, a flat bar is measured by first taking its width and then its thickness. Flat bars are used for a number of reasons, including in mechanics, in construction, as an ornamental part and as tools themselves. They are also often used for decorative reasons as well.
Brass flat bar finishes 
Our range of brass flat bar is supplied in its natural state which shows the natural grain of the material and is also referred to as mill finish. We have the in-house facility to apply a satin/brushed finish to the face and edges of the flat bar. We also able to supply in a mirror polished finish. All of these finishes look exquisite in their various applications. 
Buy the right brass flat bar at London Metal Store
With 25 years of experience under our belt, we have the metalwork knowledge to support you every step of way throughout your project. So if you're looking to buy brass flat bar products, explore the collection of brass flat bars today, including options cut to size. And don't hesitate to contact our team if you have any questions.
Call us on 0203 002 63 53 or email us at sales@londonmetalstore.co.uk.