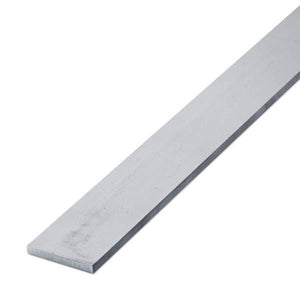 What is Stainless Steel metal?
As an alloy of iron and carbon, steel is one of the strongest and most reliable metals available, with stainless steel boasting even greater strength and usage. As such, it is used in a range of metalwork projects, from sculpture and cutlery to automobile manufacture and building works. 
It isn't hard to see why stainless steel metal is such a popular option for metalwork projects, as it provides a whole host of benefits. These include excellent hygiene, fire and heat resistance, impact resistance and strength, long-term value and corrosion resistance. On top of this, it also has a pleasant, modern aesthetic appearance and is one of the more sustainable metal options.
What is Flat Bar Stainless Steel?
Stainless steel flat bars are used in a variety of applications including the manufacture of gates, railings, fencing and decorative purposes. We have a large range of flat steel bars available but if you don't see the specification you require please call our sales team. Flat bars are used for a number of reasons, including in mechanics and in construction. We tend to sell our flat bars at 2m or 3m long with a thickness of 3mm. Our width ranges from 12mm to 40mm
Stainless Steel Flat Bar Finishes 
Our range of stainless steel flat bar is supplied in its natural state which shows the natural grain of the material and is also referred to as mill finish. We have the in-house facility to apply a satin/brushed finish to the face and edges of the flat bar. We also able to supply in a mirror polished finish. All of these finishes look exquisite in their various applications. 
Buy the right Stainless Steel Flat Bar at London Metal Store
With 25 years of experience under our belt, we have the metalwork knowledge to support you every step of way throughout your project. So if you're looking to buy stainless steel flat bar products, explore the collection of stainless steel flat bars today, including options cut to size. And don't hesitate to contact our team if you have any questions.
Call us on 0203 002 63 53 or email us at sales@londonmetalstore.co.uk.