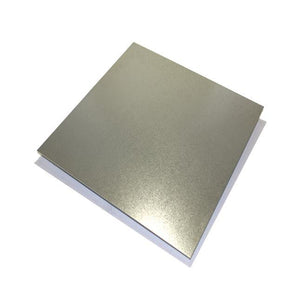 Galvanised sheet metal 
Galvanised steel sheet is widely used in applications where rust resistance is needed, and can be identified by the crystallization patterning on the surface (often called a "spangle"). Our pre-galvanised sheet metal is an ideal option for securing doors, cladding to maximise rust prevention and for industrial look fit outs. 
Galvanised steel panels 
Our galvanised plates are ideal for electrical work projects where bespoke panels are required. They can be easily drilled though and fixed with the reassurance that they will stand up to the elements. Here at London metal store, we can provide a custom cutting service for providing galvanised panels cut to size. Our precision sheet metal service goes one step further in being able to offer cnc punching and folding services for even more of a custom requirement.
What is galvanised steel?
Galvanised sheet metal are made in coils and then decoiled to standard sheet sizes. They are produced for applications where corrosion resistance is a priority. Galvanised steel is essentially ordinary carbon steel with a layer of zinc deposit to inhibit rust build up. It can be cut, drilled and formed in the same way as mild steel with the benefit of the coating on the surface. In many cases, there is no need for any additional protective finish.
Galvanised Steel Sheet Cut To Size

If you're looking for galvanised steel sheet cut to size, you're in the right place. While sheet metal can come in a range of sizes, we are also able to tailor the size of your sheet metal to meet the dimensions necessary for your project. We understand that no two metalwork projects are the same, so we're always happy to sell metal cut to size. See above for our sizes and prices.
We can also provide additional folding and powder coating services too. If you require help, please get in touch with our sales team via phone or email.
Find Galvanised Steel at London Metal Store
With a quarter of a century's experience under our belt, we have the knowledge and expertise to support you throughout your entire metalwork project, from enquiry to delivery. 
Discover high quality galvanised steel sheet right here at London Metal Store. If you require sheet cut to size services, feel free to get in touch. Call us on 0203 002 63 53 or drop us an email at sales@londonmetalstore.co.uk.