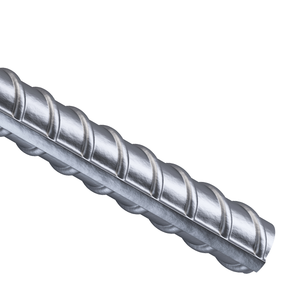 WHAT IS MILD STEEL?
Mild steel is a type of carbon steel with a low amount of carbon – it is actually also known as "low carbon steel." 
Mild steel also has a high amount of iron and ferrite, making it magnetic.
WHAT IS A MILD STEEL REBAR?
Mild steel reinforcing bars are commonly used for structural steel, signs automobiles, furniture, decorations, wire, fencing, nails and other fabrications. The rebar helps absorb weight and stress whilst evening out tensions caused by concrete.
REBAR STEEL NEAR ME
When you order steel from London Metal Store, it will be delivered in its natural state. This resembles a silver grey colour. Once it has been exposed to wet and dry natural conditions, it will change over time and take on a rust-like appearance. However, the rebar can be protected from oxidising with a primer or protective finish.
REINFORCING BAR STEEL SIZES
At London Metal Store, we make it our mission to meet the specific metalwork demands of our customers with the highest quality metals all in one place, including a range of rebar steel sizes. 
MILD STEEL REBAR FROM LONDON METAL STORE
When shopping for the right metal supplies, you want to make sure you're selecting options which meet your demands. Here at the London Metal Store, our customers can enjoy peace of mind that all metal products they order live up to the very highest standard for quality, accuracy and durability. If you're looking to buy reinforcing bar steel, you're in the right place. Take a look at our sheets of steel options today and find the best steel price. Our products can also can be tailored to a size and shape that suits you. Don't hesitate to contact our team if you have any questions or queries. Call us on 0203 002 63 53 or drop us an email at sales@londonmetalstore.co.uk.