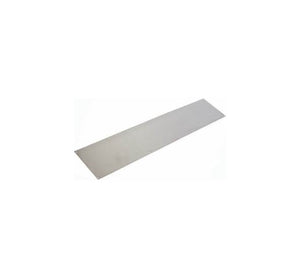 What is Stainless Steel?
Stainless steel is a steel alloy with excellent corrosion resistance compared to carbon/alloy steel. All of our stainless steel sheet products comes with protective plastic coating on one side and our stainless steel angles, flat bar, tube, box section are supplied in a 2b finish. 
Our stainless steel range is great for harsh environments, ideal for catering, providing for hygienic surfaces or applications where a higher level of corrosion resistance is required without the need for additional protective finishes. 
What is a kick plate?
A kick plate is a piece of stainless steel metal that allows people to open doors using their feet. This can be useful in instances where different materials are being handled so that the spread of germs can be prevented. Kick plates have proven very cost effective as it protects doors from experiencing damage or dirt, this prevents you from having to clean or repair doors. Kick plates smooth and modern properties means they are easy to clean. Here at London Metal Store we offer 316 Stainless Steel kick plates at 1.2mm thickness.
Looking to buy stainless steel metal?
Stainless steel metal is made using an industrial process that creates metal to be used in an array of roles and projects. It is fundamental to metalwork, and you'll find a wide variety of high quality stainless steel options right here at London Metal Store. We can even customise your order to meet your specific measurements. This means you'll always be able to find stainless steel to tick your boxes, no matter what your requirements may be.
Contact us today to find out more about how we can help you with your stainless steel sheet metal project.
Cut to size stainless steel?

Stainless steel  metal comes in a variety of sizes. Our team can also cut sheets to size with great precision in addition to the complete range of stainless steel material we offer. We offer cut to size stainless steel that meets the specific dimensions you need for your project. We understand that every metalwork project is different, so you'll need metalwork supplies that are unique to your needs, including a range of different sizes.
Our experts are on hand to talk though your order with you and ensure that you get the dimensions you need.
Stainless Steel Kick Plate at London Metal Store
If you're looking to buy stainless steel metal, take a look at our stainless steel options today, which includes cut to size stainless steel tailored to you. And don't hesitate to contact our team if you have any questions or queries. Call us on 0203 002 63 53 or drop us an email at sales@londonmetalstore.co.uk.