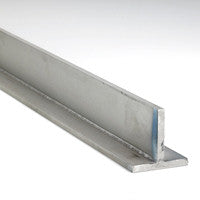 WHAT IS STAINLESS STEEL METAL?
As an alloy of iron and carbon, steel is one of the strongest and most reliable metals available, with stainless steel boasting even greater strength and usage. As such, it is used in a range of metalwork projects, from sculpture and cutlery to automobile manufacture and building works. 
It isn't hard to see why stainless steel metal is such a popular option for metalwork projects, as it provides a whole host of benefits. These include excellent hygiene, fire and heat resistance, impact resistance and strength, long-term value and corrosion resistance. On top of this, it also has a pleasant, modern aesthetic appearance and is one of the more sustainable metal options
WHAT ARE STAINLESS STEEL T SECTIONS?
Stainless Steel T sections are commonly utilised in the architecture, automotive and aerospace industries. They are produced to give good strength and can be welded. We have a large range of Stainless Steel T sections from stock in a choice of various sizes. Our Stainless Steel T bars range from a size of 20mm to 25mm with a length ranging from 1.5m to 3m.
STAINLESS STEEL T SECTIONS FROM LONDON METAL STORE

Looking for the stainless steel T bars for sale? UK shoppers can't do better than London Metal Store. We pride ourselves on offering the highest quality stainless steel angle for the most competitive price, so you know you're getting the most out of your budget. Don't hesitate to contact our team if you have any questions. Call us on 0203 002 63 53 or drop us an email at sales@londonmetalstore.co.uk.